Antique & Mid Century Furniture, Fine Art, Collectible Guitars & Eclectic Memorabilia (257)
All items closed
 All Payments Due By Friday, August 25th - 3PM CST
« Back to list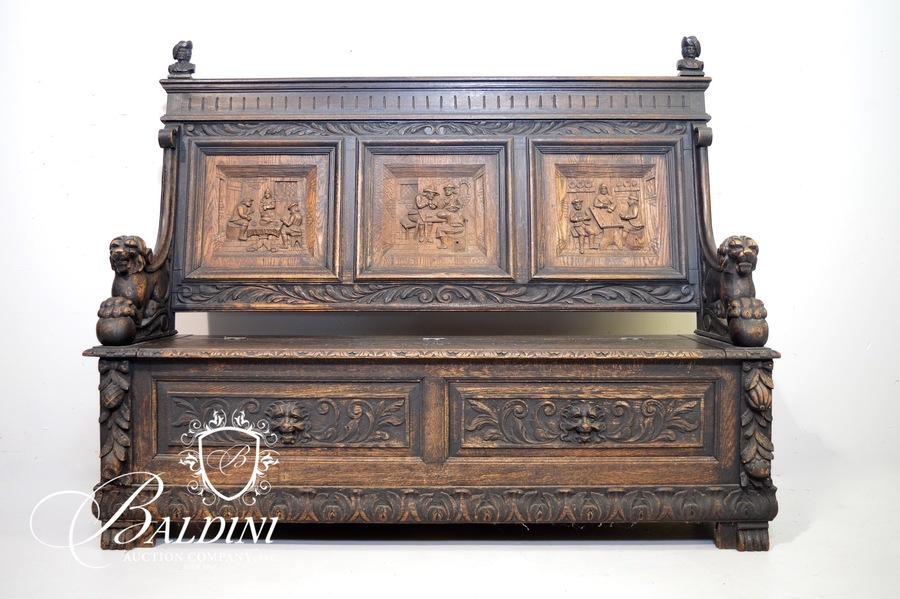 Lot #0250:
Important 1880's Victorian Monk/Deacon's Bench Heavily Carved with Lift Seat
Bidding is

closed

.
High Bid:
$875.00
NA
Bidding Ended:
Thu, Aug 24 2:34:00 pm CT
High Bidder:
548
Bid Increment:
$50.00
Starting Bid:
$1.00
Item has been viewed 257 times.

This considerable bench features intricately carved finials on both sides, separated by a straight top rail. The back panel is decorated by three carved scenes showing scenes of men dining and playing cards. The arms of the bench begin with scrolling and follow hand rests with carved lions. The seat of the bench is decorated with foliate and leaf detail and is hinged, when lifted reveals storage. The skirt of the piece has carved lion heads in high relief, surrounded by foliate details. The piece rests on paw feet.  
63" x 53" x 18"
---
| | | |
| --- | --- | --- |
| Bid Date | Bid Amount | Bidder |
| Aug 24, 2017 - 2:28:29 PM | $875.00 | i548 |
| Aug 24, 2017 - 2:28:29 PM | $825.00 | i596 |
| Aug 24, 2017 - 10:28:55 AM | $775.00 | i548 |
| Aug 24, 2017 - 9:20:56 AM | $725.00 | i596 |
| Aug 24, 2017 - 9:17:41 AM | $700.00 | i548 |
| Aug 24, 2017 - 9:17:41 AM | $675.00 | i596 |
| Aug 24, 2017 - 9:17:34 AM | $650.00 | i548 |
| Aug 24, 2017 - 9:17:34 AM | $625.00 | i596 |
| Aug 24, 2017 - 9:17:26 AM | $600.00 | i548 |
| Aug 24, 2017 - 9:17:26 AM | $575.00 | i596 |
| Aug 24, 2017 - 7:27:57 AM | $550.00 | i548 |
| Aug 24, 2017 - 4:55:46 AM | $525.00 | i596 |
| Aug 24, 2017 - 4:55:40 AM | $500.00 | i548 |
| Aug 24, 2017 - 4:55:41 AM | $500.00 | i596 |
| Aug 24, 2017 - 4:55:31 AM | $475.00 | i548 |
| Aug 24, 2017 - 4:55:31 AM | $450.00 | i596 |
| Aug 24, 2017 - 4:55:25 AM | $425.00 | i548 |
| Aug 24, 2017 - 4:55:25 AM | $400.00 | i596 |
| Aug 23, 2017 - 5:28:02 PM | $375.00 | i548 |
| Aug 23, 2017 - 4:18:14 PM | $350.00 | i536 |
| Aug 23, 2017 - 3:21:39 PM | $325.00 | i569 |
| Aug 23, 2017 - 3:21:39 PM | $300.00 | i548 |
| Aug 19, 2017 - 12:33:33 PM | $260.00 | i548 |
| Aug 15, 2017 - 6:47:59 PM | $235.00 | i536 |
| Aug 15, 2017 - 6:47:55 PM | $210.00 | i916 |
| Aug 15, 2017 - 6:47:55 PM | $200.00 | i536 |
| Aug 15, 2017 - 5:16:01 PM | $175.00 | i916 |
| Aug 15, 2017 - 5:15:32 PM | $150.00 | i536 |
| Aug 15, 2017 - 5:15:32 PM | $131.00 | i916 |
| Aug 15, 2017 - 5:15:24 PM | $106.00 | i536 |
| Aug 15, 2017 - 5:15:24 PM | $96.00 | i916 |
| Aug 15, 2017 - 12:55:11 PM | $86.00 | i536 |
| Aug 12, 2017 - 9:41:09 PM | $76.00 | i916 |
| Aug 12, 2017 - 9:41:09 PM | $75.00 | i795 |
| Aug 11, 2017 - 6:24:21 AM | $66.00 | i795 |
| Aug 10, 2017 - 8:34:47 PM | $56.00 | i391 |
| Aug 10, 2017 - 8:34:47 PM | $50.00 | i795 |
| Aug 10, 2017 - 8:34:43 PM | $46.00 | i795 |
| Aug 10, 2017 - 8:34:43 PM | $36.00 | i391 |
| Aug 10, 2017 - 11:32:53 AM | $26.00 | i795 |
| Aug 10, 2017 - 11:32:53 AM | $21.00 | i881 |
| Aug 10, 2017 - 10:15:20 AM | $16.00 | i795 |
| Aug 10, 2017 - 10:15:20 AM | $11.00 | i587 |
| Aug 10, 2017 - 10:10:42 AM | $6.00 | i795 |
| Aug 10, 2017 - 10:10:42 AM | $5.00 | i582 |
| Aug 10, 2017 - 9:56:55 AM | $3.00 | i795 |
| Aug 10, 2017 - 9:56:55 AM | $2.00 | i582 |
| Aug 10, 2017 - 9:47:49 AM | $1.00 | i795 |