David Scutt Estate: 70+ Firearms - Hunting Bags - Antique Clocks - Original Artwork (187)
All items closed
There
will be NO shipping of any firearms or ammunition, with the exception of the flintlock long-guns.
To Read More About David Scutt...
Click Here
PLEASE READ TERMS AND CONDITIONS CAREFULLY!!!!!!
« Back to list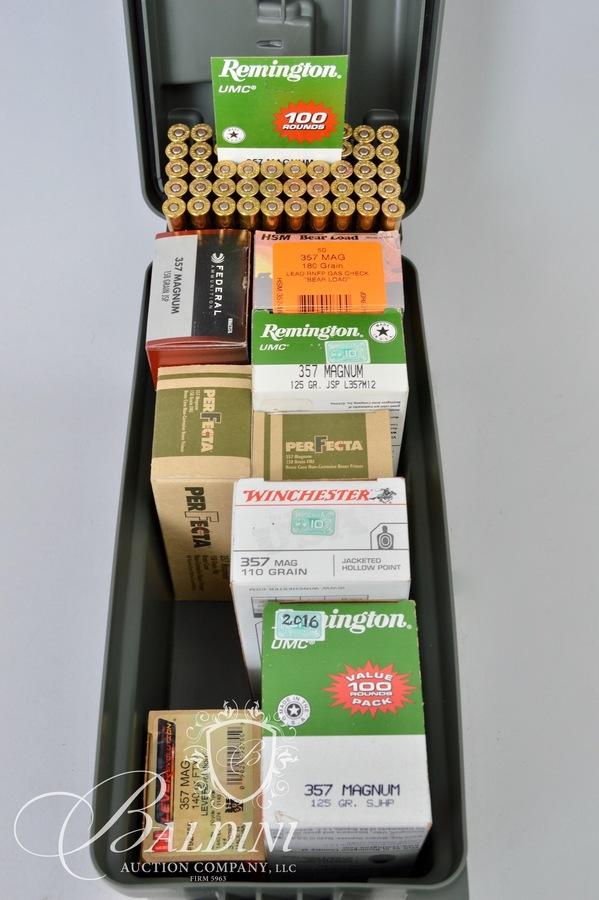 Lot #0351:
.357 Ammo and 1 Ammo Box
Bidding is

closed

.
High Bid:
$75.00
NA
Bidding Ended:
Wed, Nov 6 3:04:00 pm CT
High Bidder:
2114
Bid Increment:
$5.00
Starting Bid:
$5.00
Item has been viewed 147 times.

| | | |
| --- | --- | --- |
| Bid Date | Bid Amount | Bidder |
| Nov 4, 2019 - 5:46:19 PM | $75.00 | i2114 |
| Nov 4, 2019 - 5:46:19 PM | $70.00 | i2079 |
| Oct 28, 2019 - 11:54:27 PM | $60.00 | i2079 |
| Oct 27, 2019 - 1:04:54 PM | $55.00 | i2059 |
| Oct 27, 2019 - 1:04:43 PM | $50.00 | i2079 |
| Oct 27, 2019 - 1:04:44 PM | $50.00 | i2059 |
| Oct 27, 2019 - 1:03:04 PM | $40.00 | i2079 |
| Oct 23, 2019 - 7:38:52 PM | $35.00 | i916 |
| Oct 23, 2019 - 7:38:52 PM | $33.77 | i2066 |
| Oct 23, 2019 - 7:38:35 PM | $21.00 | i2066 |
| Oct 23, 2019 - 7:38:35 PM | $20.00 | i916 |
| Oct 23, 2019 - 7:38:31 PM | $19.00 | i2066 |
| Oct 23, 2019 - 7:38:31 PM | $18.00 | i916 |
| Oct 23, 2019 - 7:38:27 PM | $17.00 | i2066 |
| Oct 23, 2019 - 7:38:27 PM | $16.00 | i916 |
| Oct 23, 2019 - 7:38:24 PM | $15.00 | i2066 |
| Oct 23, 2019 - 7:38:24 PM | $14.00 | i916 |
| Oct 23, 2019 - 7:38:20 PM | $13.00 | i2066 |
| Oct 23, 2019 - 7:38:20 PM | $12.00 | i916 |
| Oct 23, 2019 - 7:38:16 PM | $11.00 | i2066 |
| Oct 23, 2019 - 7:38:16 PM | $10.00 | i916 |
| Oct 23, 2019 - 7:38:11 PM | $9.00 | i2066 |
| Oct 23, 2019 - 7:38:11 PM | $8.00 | i916 |
| Oct 23, 2019 - 7:38:06 PM | $7.00 | i2066 |
| Oct 23, 2019 - 7:38:06 PM | $6.00 | i916 |
| Oct 23, 2019 - 4:18:12 PM | $5.00 | i2066 |