Online Estate Auction - Over 40 Years of Collecting - Seller Moving Back to Alaska (436)
All items closed
Shipping Available on Most Non-Furniture Items 
Credit Card Payments Only - Check Terms and Conditions for Pick-Up Info.

« Back to list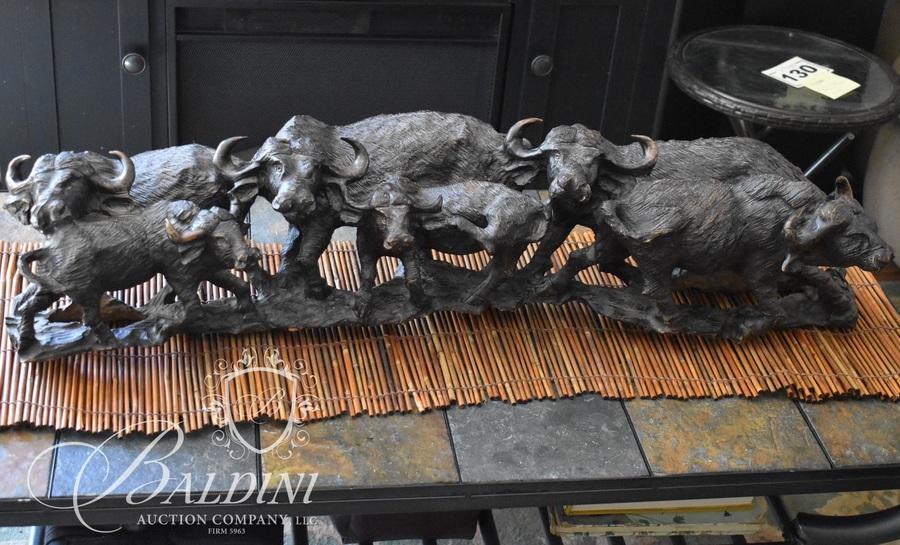 Lot #0154:
Large Leadwood Carving Depicting Six Cape Buffalo Running, 3' long
Bidding is

closed

.
High Bid:
$880.00
NA
Bidding Ended:
Thu, May 4 2:14:00 pm CT
High Bidder:
2718
Bid Increment:
$25.00
Starting Bid:
$5.00
Item has been viewed 267 times.

| | | |
| --- | --- | --- |
| Bid Date | Bid Amount | Bidder |
| May 4, 2023 - 1:45:33 PM | $880.00 | i2718 |
| May 4, 2023 - 1:45:33 PM | $855.00 | i2736 |
| May 4, 2023 - 1:45:26 PM | $830.00 | i2718 |
| May 4, 2023 - 1:45:26 PM | $805.00 | i2736 |
| May 4, 2023 - 1:45:20 PM | $780.00 | i2718 |
| May 4, 2023 - 1:45:20 PM | $755.00 | i2736 |
| May 4, 2023 - 1:45:16 PM | $730.00 | i2718 |
| May 4, 2023 - 1:45:16 PM | $705.00 | i2736 |
| May 4, 2023 - 1:45:11 PM | $680.00 | i2718 |
| May 4, 2023 - 1:45:11 PM | $655.00 | i2736 |
| May 4, 2023 - 1:45:07 PM | $630.00 | i2718 |
| May 4, 2023 - 1:45:07 PM | $605.00 | i2736 |
| May 4, 2023 - 1:45:01 PM | $580.00 | i2718 |
| May 4, 2023 - 1:45:01 PM | $555.00 | i2736 |
| May 4, 2023 - 1:44:55 PM | $530.00 | i2718 |
| May 4, 2023 - 1:44:55 PM | $505.00 | i2736 |
| May 4, 2023 - 1:44:34 PM | $495.00 | i2718 |
| May 4, 2023 - 1:44:34 PM | $485.00 | i2736 |
| May 4, 2023 - 1:44:27 PM | $475.00 | i2718 |
| May 4, 2023 - 1:44:27 PM | $465.00 | i2736 |
| May 4, 2023 - 1:44:07 PM | $455.00 | i2718 |
| May 4, 2023 - 1:44:07 PM | $445.00 | i2736 |
| May 4, 2023 - 1:44:01 PM | $435.00 | i2718 |
| May 4, 2023 - 1:44:01 PM | $425.00 | i2736 |
| May 4, 2023 - 11:21:22 AM | $415.00 | i2718 |
| May 3, 2023 - 4:02:46 PM | $405.00 | i937 |
| May 3, 2023 - 4:02:46 PM | $400.00 | i2676 |
| May 3, 2023 - 4:02:41 PM | $395.00 | i2676 |
| May 3, 2023 - 4:02:41 PM | $385.00 | i937 |
| May 3, 2023 - 4:02:08 PM | $375.00 | i2676 |
| May 3, 2023 - 4:02:08 PM | $365.00 | i937 |
| May 3, 2023 - 4:02:02 PM | $355.00 | i2676 |
| May 3, 2023 - 4:02:02 PM | $345.00 | i937 |
| May 3, 2023 - 4:01:59 PM | $335.00 | i2676 |
| May 3, 2023 - 4:01:59 PM | $325.00 | i937 |
| May 3, 2023 - 4:01:56 PM | $315.00 | i2676 |
| May 3, 2023 - 4:01:56 PM | $305.00 | i937 |
| May 3, 2023 - 4:01:52 PM | $295.00 | i2676 |
| May 3, 2023 - 4:01:52 PM | $285.00 | i937 |
| May 3, 2023 - 4:01:49 PM | $275.00 | i2676 |
| May 3, 2023 - 4:01:49 PM | $265.00 | i937 |
| May 3, 2023 - 4:01:43 PM | $255.00 | i2676 |
| May 3, 2023 - 4:01:43 PM | $250.00 | i937 |
| May 3, 2023 - 4:01:39 PM | $245.00 | i2676 |
| May 3, 2023 - 4:01:39 PM | $240.00 | i937 |
| Apr 20, 2023 - 2:13:06 PM | $235.00 | i2676 |
| Apr 20, 2023 - 2:13:06 PM | $230.00 | i1092 |
| Apr 19, 2023 - 8:26:10 PM | $205.00 | i1092 |
| Apr 19, 2023 - 8:26:10 PM | $200.00 | i2676 |
| Apr 19, 2023 - 8:25:48 PM | $170.00 | i2676 |
| Apr 19, 2023 - 8:25:48 PM | $165.00 | i1092 |
| Apr 19, 2023 - 8:25:28 PM | $105.00 | i2676 |
| Apr 19, 2023 - 8:25:28 PM | $100.00 | i1092 |
| Apr 19, 2023 - 8:24:59 PM | $35.00 | i2676 |
| Apr 19, 2023 - 8:24:59 PM | $30.00 | i1092 |
| Apr 19, 2023 - 11:07:55 AM | $5.00 | i2676 |